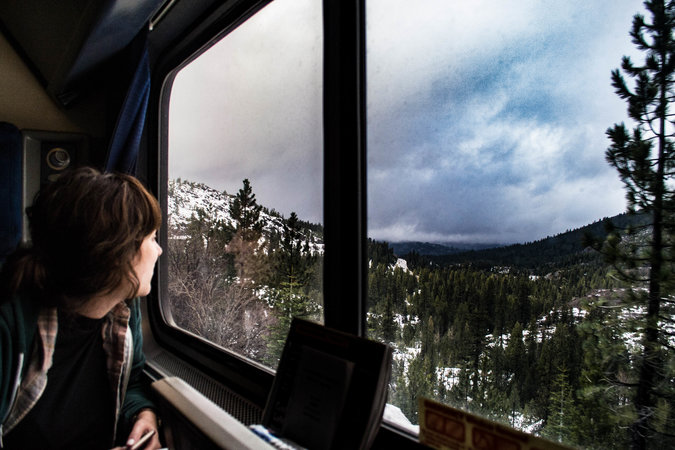 photo credit: Anthony Albert for New York Times
Locals and tourists alike enjoy going to Lake Tahoe from the San Francisco Bay Area. The potential to-do list in Tahoe is endless and includes:
Winter outdoor activities: Skiing (downhill and cross country), Snowboarding Snowshoeing, Ice Skating, and Sledding
Summer outdoor activities: Hiking, Mountain biking, Kayaking, Canoeing, Water skiing, and Camping
Restaurants: From casino buffets to high-end dining
Resorts and Hotels: Gambling, Wine Tasting, Bars, Dining, Shopping, and more
And, of course, many of these activities include spectacular views of Lake Tahoe and the surrounding Sierra Nevada mountains. You've got your choice of mixing your favorite activities with mind-boggling vistas.
While the drive from the Bay Area to Tahoe (whether you go I-80 or Highway 50) includes some nice views, you'll have a lot more to see if you take the train. Amtrak's California Zephyr departs from Emeryville and arrives in Truckee. If you want a relaxing trip full of great scenery, this ride just might be right for you. After all, what could be better for a view lover than beautiful mountain scenery without the burden of having to watch the road from behind the wheel?
This scenic train ride has been featured in a New York Times article which includes some photos of what you'll see during the ride.
You can find more information on the California Zephyr from train aficionados, including the blog Trains and Travel which has a wonderful description of this train trip.